Juan de Fuca Marine Trail Vancouver Island

| | | | | | |
| --- | --- | --- | --- | --- | --- |
| Home | Photos | Links | Map | Info | Lodging |
Juan De Fuca Marine Trail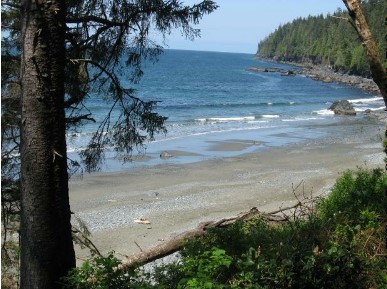 The trail offers scenic beauty, spectacular hiking, wildlife viewing, and roaring surf in its course along the Pacific coastline of the Strait of Juan de Fuca. Most of the trail is designed for strenuous day or multi-day hiking in this rugged and isolated area. Some easy to moderate day hiking opportunities to the beach or along the trail are available stating from the trail heads at China Beach, Sombrio Beach, Parkinson Creek, and Botanical Beach.
This unique trail was created through the Commonwealth Nature Legacy as an enduring reminder of the 1994 Victoria Commonwealth Games. Preservation of a living legacy of unprecedented natural beauty, accessible to all, was considered a fitting tribute to the spirit of the Games.
Construction and preservation of this trail has been made possible by the efforts of government, local industries, and citizens. Land exchanges and gifts of land have come from Western Forest Products and Timber West. The trail is being upgraded with funding from Forest Renewal BC and the Environment Youth Team ( E-Team).
The Juan de Fuca marine Trail does not connect to the West Coast Trail, part of the Pacific Rim National park Reserve. Private bus service to the Juan de Fuca Marine Trail may be available. Contact BC Parks for information.
The Juan de Fuca Marine Trail is designed as a wilderness hiking trail. Hiking conditions are always changing and hikers should obtain up to date information before proceeding on a hike by checking the trail head information shelters. There will be ongoing construction and upgrading on the trail for a number of years.
Hikers are advised to leave a plan of their trip, including which trail they are hiking, and arrival and departure times with a friend or relative.
The most popular places to stay on Vancouver Island:
---
All information courtesy of BC Parks, for further information please contact:
In Victoria call: 387-6121
In Vancouver call: 604 660-2421
Elsewhere in B.C. call: 1 800 663-7867
Outside B.C. call: 604 660-2421
E-mail address: